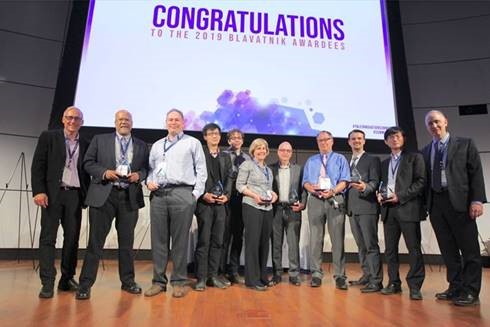 PITCH recipient and Cytosolix founder John Deacon, PhD was one of eight Yale investigators to receive an award from the Blavatnik Fund for Innovation at Yale presented at the Yale Innovation Summit on May 8, 2019.  The award honors researchers with pioneering translational projects and is used to advance their research towards commercialization. The event hosted by the Yale Office of Cooperative Research drew  well over a thousand attendees including dozens of representatives from the venture community. 
Photo credit: TipsyPix
For more information on the event and on additional awardees, see https://medicine.yale.edu/news/article.aspx?id=20285.
John Deacon, PhD and Ben Mamoun, PhD (first and second, respectively from R to L) present their big checks. Photo credit: Mercy Quaye
PITCH recipients John Deacon, PhD and Choukri Ben Mamoun, PhD received awards in the pitch biotech contest held at the Yale Innovation Summit. Choukri Ben Mamoun founder of EliV5 Therapeutics was awarded a $5,000 check for second place for his research in developing novel antifungal therapeutics. John Deacon, PhD received third place for a $2,500 award to be used towards commercializing the technology of Cytosolix in improving small molecule therapy through targeted drug delivery to solid tumors.
For more information on the event and on additional winners, see https://ocr.yale.edu/news/gov-ned-lamont-supports-new-haven-preeminent-hub-innovation-and-entrepreneurism-2019-yale
PITCH recipients Ya Ha, PhD and John Deacon, PhD were selected for electronic poster (eposter) awards from more than 70 eposters presented in the tech and biotech tracks at the 2019 Innovation Summit. Co-founders, Ya Ha, PhD and Jonathan Ellman, PhD were awarded $500 for Wiggin and Dana sponsored-Highest Potential Impact for their innovative work in startup Lkit Therapeutics. John Deacon, PhD of Cytosolix was one of ten eposters awarded Promising Future New Haven Ventures with a $250 check sponsored by Elm City Innovation Collaborative. Cytosolix also recently closed on a pre-seed funding round from the Connecticut Bioscience Innovation Fund and Connecticut Innovations.
For additional eposter winners see, https://ocr.yale.edu/news/innovation-summit-eposter-winners-announced.